Progress on investments in kindergarten to grade 12 education
In 2016, the Government of Canada announced an unprecedented $2.6 billion over 5 years, beyond existing funding, to improve elementary and secondary education on reserve. These investments support First Nations control of First Nations education and are helping to ensure that students living on reserve receive a quality education.
Indigenous Services Canada (ISC) provides funding to First Nations for 107,000 eligible students who are 4 to 21 years of age, ordinarily live on reserve, and are enrolled in and attending an eligible elementary or secondary program.
The new funding from Budget 2016 includes:
$824.1 million to implement transformation in First Nations education
$747.6 million to address immediate funding needs and program growth
$577.5 million to support students with special needs
$275 million to support First Nations language and culture
$100 million to support literacy and numeracy
$37.5 million to support innovation, research, measurement and evaluation
$30 million to support the Martin Family Initiative's partnerships with First Nations to raise the literacy rate
Total annual investments in kindergarten to grade 12 education on reserve
Some results of Budget 2016 investments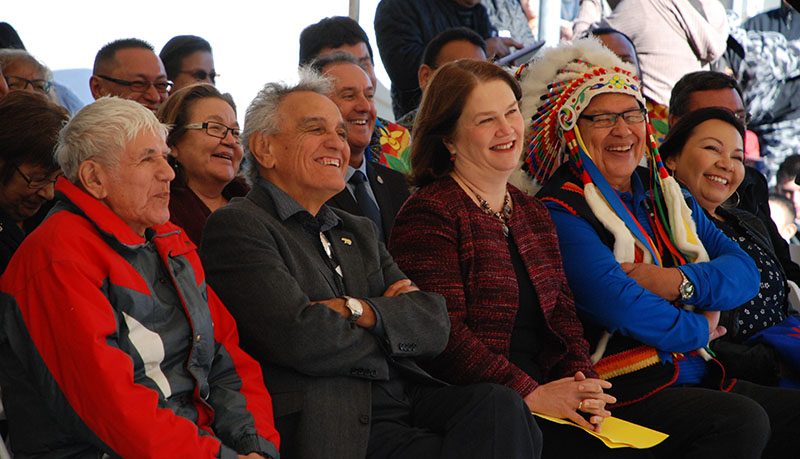 Creating the new Manitoba First Nations School System
This first-of-its-kind school system was created in June 2017 as the result of efforts by First Nations in Manitoba to better address the needs of First Nations students. The Manitoba First Nations School System provides culturally relevant, high-quality education and support services to 10 schools serving 1,800 students. The goal is to improve the quality and relevance of education, academic standards and student outcomes including retention, completion and graduation rates.
In just 18 months, the Manitoba First Nations School System has been able to improve its capacity to effectively deliver education programs, including:
more staff and improved teacher training, hiring and retention
better support services, library resources and literacy and numeracy support for students
materials for land-based learning
increased parental and community engagement
Creating the new Maskawacîs Cree School System
This new school system, led by the Maskawacîs Education Schools Commission, was created in July 2018 to provide improved education programs and supports to 3,184 students. Its goal is to ensure that every child in Maskawacîs will receive the same high-quality education in each of the 11 schools on reserve. It provides a Cree-based culturally vibrant learning and teaching environment for students, teachers and the community.
In just 6 months, the Maskawacîs Cree School System has been able to improve its capacity to effectively deliver education programs including:
a Cree curriculum
better teacher retention
increased parental and community engagement
land-based learning opportunities for students
improvements in the Universal School Foods Strategy, which provides healthy meals to students in the Maskawacîs schools
Improving school connectivity in British Columbia
Over the last 2 years, Budget 2016 has provided more than $1.4 million to help all First Nations schools in British Columbia buy, deliver and set-up new computers and tablets. At the same time, the First Nation Education Steering Committee and the First Nation School Association have implemented the first phase of a two-year initiative to upgrade the connectivity of First Nations schools in the province. In the first year, upgrades were made in 39 locations, with plans developed for addressing an additional 73 sites by December 2018. As of result of these investments, First Nations schools across the province are able to provide 21st-century learning opportunities to their students.
New language and culture programming in Alberta
Budget 2016 doubled available funding for language and culture from approximately $7 million to $14 million for First Nations in Alberta. This increased funding supported initiatives such as Cree language apps, culture camps, the development of language curriculum and a Land-based Learning Symposium in November 2018.
Increasing support for special education in Saskatchewan
Budget 2016 enabled First Nations education organizations in Saskatchewan to improve support services for students, including hiring more psychologists, speech and language pathologists, occupational therapists, physical therapists and behavioural specialists. As a result, assessors in each school work with designated students and help school staff develop individual education plans. Other activities included increasing professional development opportunities for school staff, creating sensory rooms, strengthening behaviour programs with Elders and traditional activities, increasing the number of assistants and learning resource teachers and installing accessible playground equipment.
Empowering youth in Manitoba
Budget 2016 enabled Manitoba Keewatinowi Okimakanak to invest $107,000 in a Youth Empowerment Ice Road Tour delivered by Live Different. Beginning in January 2017, the tour visited 16 schools in northern First Nations communities and reached approximately 6,000 students. Also, Anishnabe Mikiniack Kinamakamik held the Great Leadership Exchange: Elder and Youth Indigenous Knowledge Transfer Gathering at Turtle Lodge. This transfer of knowledge empowered youth to identify future goals within a traditional perspective and regain the strengths and identity of traditional ways of life.
New materials and improved connectivity in Ontario
Budget 2016 investments helped buy new school materials and replace or update equipment and technology for First Nations students across Ontario, including library resources, science and physical education equipment, internet connectivity and computer equipment and software. It also provided $7.4 million for guidance and counselling services to improve support services for First Nations students.
Investments in language and culture in Quebec
Budget 2016 investments in language and culture for First Nations in Quebec have resulted in community-based programs and activities that promote cultural knowledge and language transmission, land-based skills and relationship-building in the community. Investments also supported the Mohawk Curriculum Centre to build tools and resources that enhance Mohawk language and cultural teachings, integrate technology into storytelling and knowledge transmission and support experiential learning at all grade levels. Other enhancements include the advancement of Innu language standardization, a new regional Adult Education Council and a new workforce development and training centre.
Strengthening First Nations languages and cultures in the Atlantic
Budget 2016 enabled:
First Nations in New Brunswick, through First Nation Education Initiatives Inc., to develop and modify curricula and purchase language and culture resource materials.
Millbrook First Nation in Nova Scotia to increase access to Mi'kmaq dictionaries, websites and applications; support additional Elder visits to schools and fund Mi'kmaq artists to teach and assist students in creating wall murals in provincial schools.
Abegweit First Nation in Prince Edward Island to enhance the preservation and promotion of language by students, parents and teaching staff.
Mamu Tshishkutamashutau in Newfoundland and Labrador to fund Elders to assist the Innu Curriculum Coordinator to develop and organize the Innu Aimun K-9 program in band-operated schools. To help develop auditory language skills, the Innu language has also been incorporated into the school environment, including in the classroom, during breaks, before and after school and in extra-curricular activities. As well, school resource materials have been updated including an expanded Innu dictionary.